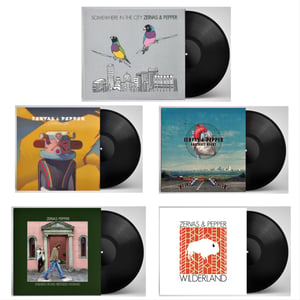 £

95.00
PREORDER ONLY - DUE ONCE A TARGET OF 100 PRE-PAID ORDERS ARE MET.
Please read below..
Zervas & Pepper Limited Edition 'Complete' Lp Collection
(mockup store image for display purposes only)
To celebrate 10 years of Z&P and the release of the our forthcoming album 'Endless Road, Restless Nomad' We would like to offer you a unique and exciting Vinyl Preorder crowdfunding opportunity, Zervas & Pepper 'Complete' 5 LP collection.
Back in 2014 It was a life-long dream for us here at Zerodeo Records to finally press our critically acclaimed album 'Lifebringer' to the medium that we love the most, and for which our recorded music was always truly intended for, the Vinyl LP.
Riding high on what was both a critically and commercially great year for us we spared no expense lovingly curating and recreating the very best audiophile quality pressing of the album possible at the time, as many that own a copy have often testified to us.
Since then we've had countless requests from our listeners for us to do the same with all of our subsequent album releases both pre and post 'Lifebringer', and whilst It's something we've often discussed and tried to bring to fruition it seemed difficult to make the numbers work, release timings etc and (as completists ourselves) didn't want to favour one title over the other.
Also this set offers the very rare opportunity for our listeners to purchase the now extremely scarce and much sought-after debut release 'Somewhere in the City' which when sold-out on CD was deleted from our physical and digital catalog way back in 2013.
So, This is where you come in.. and here's our proposal, we would like to offer you the one-off opportunity to preorder purchase ALL of our album releases on Vinyl in one go as a set we're calling Zervas Pepper - COMPLETE.
Being a completely independent label from day one this special collection of all of our album releases to date is the ONLY CHANCE to see all of these titles pressed to the vinyl format, SO DON'T MISS OUT!!!
Z&P 'Complete' 5 x LPs
Price £95.00 GBP (Includes UK Shipping)
[International Shipping is £22.00 or (£20.00 minus LB bundle) *Further customs related charges may apply for certain countries]
-----Full Album list below-----
All LP pressings separate 180g Ltd Edition Gatefold Sleeved Editions-
Album 1 - 'Somewhere in the City' (Orig CD release Feb 2011)
Album 2 - 'Lifebringer' (Orig CD release May 2013)
Album 3 - 'Abstract Heart' (Orig CD release June 2015)
Album 4 - 'Wilderland' (Orig CD release July 2017)
Album 5 - 'Endless Road, Restless Nomad' (CD Release due July 2019)
This campaign is strictly supply-meets-demand and in order for this set to go to press we'll need a minimum of 100 fully paid preorders for the set to go into manufacture,
All preorders will need to be pre-paid to us in full (Including Shipping), your money will be held in a safe, secure stand alone Paypal account until the collection goes to into press.
This may take some time, so we kindly ask all purchasers to remain both hopeful and patient whilst we try to attain this target, everyone who has ordered will be kept fully updated on the projects progress and any expected further waiting time.
In the event of us not reaching the required target of 100 preorders to manufacture this set by 31/12/19 then all monies will be immediately refunded on and no sooner than that date and the project will no longer go ahead, while we do hope that this will not be the outcome please be aware that it remains a possibility.
Again we are grateful for your patience and support with this project.
Once the set goes into manufacture there will be a 12 to 16 week wait for turnaround (This is standard for new vinyl releases) so the sooner we reach the required target the faster we can go into production! HELP US GET THERE! :)
Each album will be housed separately in a luxury full Gatefold Sleeve, fully remastered for vinyl to ensure optimum highest sound quality, All artwork reissued faithfully to the original CD releases*, Hand numbered by us and pressed to premium audiophile quality 180g Weight Black Vinyl.
We would be looking to press ALL albums** ONLY to Vinyl at once and then all would be shipped together as a 5 X LP set.
Due to deal to manufacturer we can only make this work when pressing the full set, we can not press any of the releases separately.
---We appreciate that many of our listeners will already own the LP release of 'Lifebringer' (2014 Limited edition), So at checkout there is an option to exclude this release from the set at the discounted rate of £80.00 GBP (Including UK shipping) for the other 4 releases, just choose the 'MInus 'Lifebringer' option at checkout.
All orders will be shipped in strong high quality LP mailers and all copies can be personally signed by Z&P on request.
* 'Somewhere in the City' original CD release came housed in a unique tri-fold cardboard sleeve. This special Gatefold LP edition will omit one of the original Inner panels of artwork.
**Except for 'Lifebringer', which we still have just enough limited stock of to add to the set to complete the manufacture target only. The Hand numbered editions of this title will subsequently be out-of-sync with the newly pressed titles. We can also add the newer number next to original issue number on-request.
THANK YOU
Z&P X